Spring Vegetable Cannelloni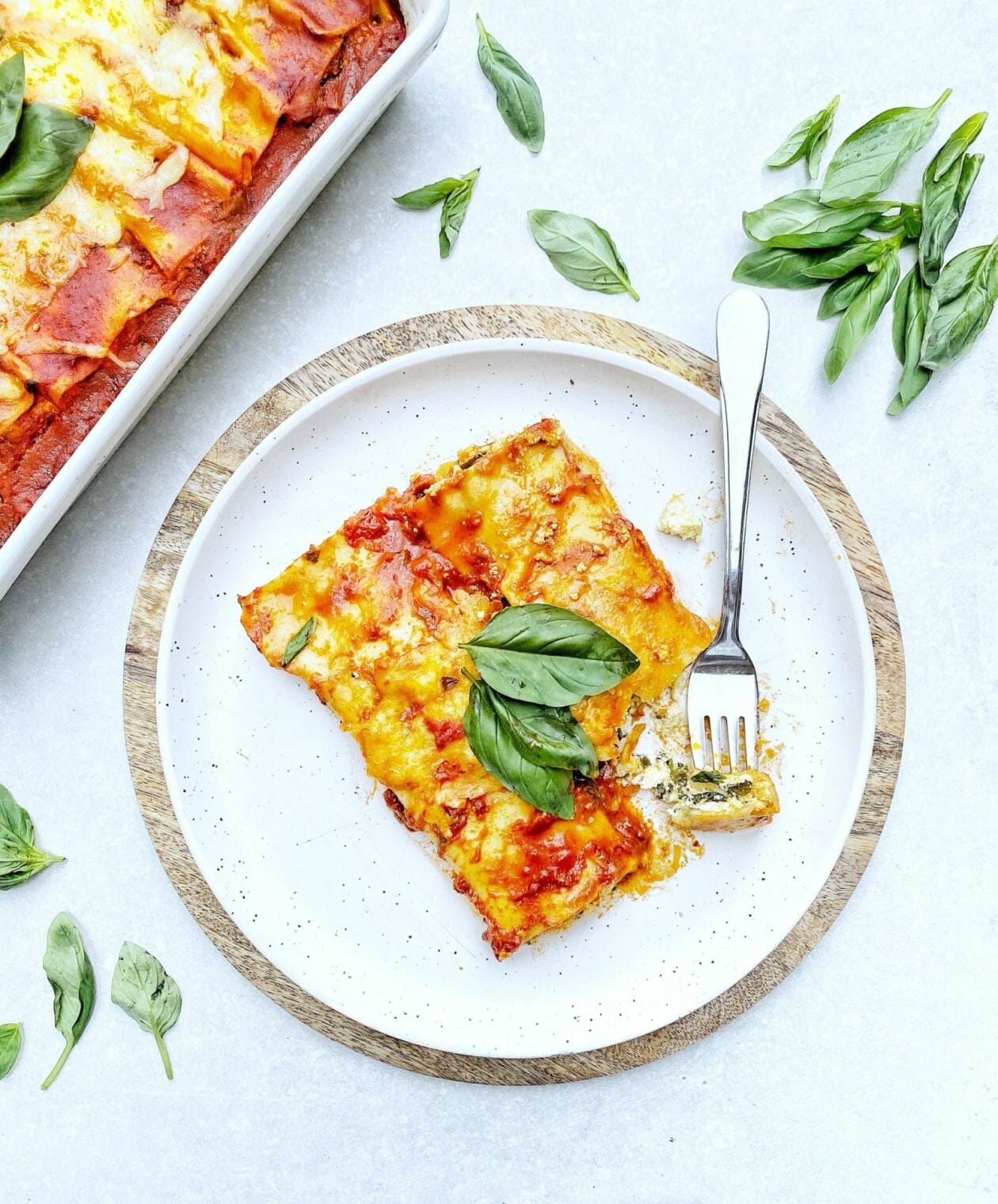 Details
Notes
Cannelloni is a tube shaped pasta. It can be the traditional dried pasta tubes, or lasagna sheets rolled around the filling to form a tube shape.
It is stuffed with filling, covered in a sauce and cheese then baked. It does not need to be cooked before filling, it softens when baked in the oven.
The most common variety is a spinach and ricotta filling. Our family has a cherished recipe for Ricotta and fresh herb filling, and you can find this version on our website here.
This spring vegetable version uses ricotta, spinach and an array of seasonal veg to help sneak some extra nutrients into your family meal! Once the filling is wrapped in pasta, and smothered in sauce and melted Mozzarella, the kids will be none the wiser!
Ingredients
| | |
| --- | --- |
| 1 clove | garlic, minced |
| 1 | brown onion |
| 400g | can of diced tomatoes |
| 700g x 2 | tomato passata jars |
| 1 Tbsp | fresh basil, chopped |
| 500g | Traditional Ricotta |
| 100g | Mozzarella Ball |
| | olive oil, for frying |
| 1 clove | garlic, minced |
| 1 cup | butternut pumpkin, grated |
| 1 | zucchini, grated |
| 1 | carrot, grated |
| 1/2 bunch | spinach, chopped (or 100g baby spinach) |
| 2 | eggs, beaten |
| 1 Tbsp | fresh basil, chopped |
| 375g | fresh lasagna sheets |
Preparation
| | |
| --- | --- |
| 1 | Preheat oven to 180C. |
| 2 | To make the sauce, chop one onion and mince one clove of garlic. Lightly fry them in a pot with olive oil until fragrant. Add the two bottles of passata and the tin of diced tomatoes. Stir in one tablespoon of fresh basil, and cook on low heat for 15-20 min with the lid of the pot on to prevent the sauce from evaporating. |
| 3 | To make the pasta filling, heat oil in a frying pan and add garlic, cooking for one minute. Saute the pumpkin, zucchini and carrot until they soften. Add the chopped spinach and cook for another minute, so that the spinach is slightly cooked. Remove from heat and season with salt, pepper and one tablespoon of the chopped fresh basil. |
| 4 | Place ricotta and eggs in a bowl and stir to combine. Add the ricotta mixture to the vegetables and stir to combine. |
| 5 | Place a ladle full of sauce to the bottom of the dish. Lay a fresh lasagne sheet on a clean cutting board and, working near one edge, scoop a line of the filling from top to bottom. Roll the pasta sheet around the filling to form a tube. Set aside and repeat until all sheets are filled. Arrange cannelloni, in a single layer, in a greased 5cm-deep ovenproof dish. Top with sauce. |
| 6 | Sprinkle with grated mozzarella. Cover with foil. Bake for 30 minutes. Uncover and bake for a further 10 minutes or until pasta is soft and tender. Allow to cool slightly for 10 minutes prior to serve. |
Digital Recipe Book
Digital Download
FREE EASTER E-COOKBOOK DIGITAL DOWNLOAD
Italian food culture has always tied into the big events in the ecclesiastical calendar, and Easter was one of the biggest celebrations of them all in the Cicchiello house. They always included Rosa's famous pizza piena, lasagna and ricotta rice cake. We are so pleased to share with you these recipes made with love and tradition, from our home to yours. Buona Pasqua!